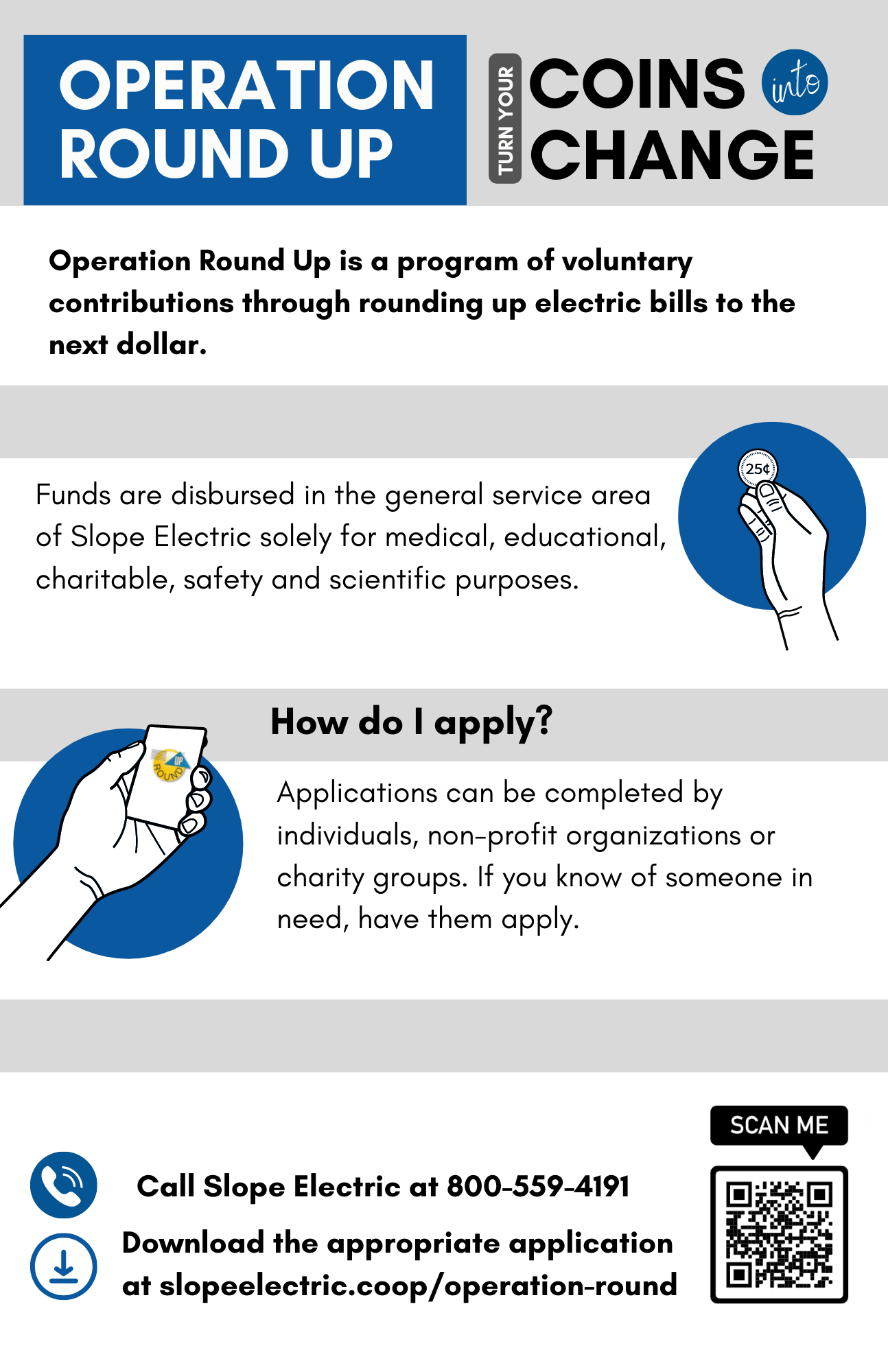 What is Operation Round Up? Operation Round Up is a program of voluntary contributions through rounding up electric bills to the next dollar. Operation Round Up has been adopted by the Slope Electric Cooperative board of directors to provide a vehicle for supporting a variety of needs in the service area.
If you participate, each month your electric bill will be rounded up to the next dollar. For example, if your calculated electric bill is $75.42, your total due will be $76.00. The extra 58 cents you pay that month will be matched by Slope Electric and a total of $1.16 will go into a designated "Operation RoundUp" fund account. 
If you have any questions about your participation in Operation Round Up, please call Slope Electric Cooperative at 579-4191 or 800-559-4191.
Where are the funds used? Slope Electric facilitated the development of a "Slope Electric Trust Fund." The cooperative collects contributions through billing, handling deposits and record keeping. A trust fund board is responsible for the distribution of all funds. The trust board consists of one person from each of the four counties in Slope Electric's service area and one person from the Slope Electric board of directors, and currently includes: William Gion, Regent; Lane Miller, Hettinger; Renee Brown, Scranton; Karen Gerbig, Amidon; Lauren Klewin, Amidon. The Trust Board meets four times a year.
Funds will be disbursed in the general service area of Slope Electric Cooperative solely for medical, educational, charitable, safety and scientific purposes. The board's top priority is to give to individual applicants with medical needs, who often have no other resources.
No more than $1,000 will be given annually to any family unit, group, organization, charity, or like organization.
The Trust Board wants the funds available to do as much direct good as possible.
Applications can be completed by individuals, tax-exempt organizations or charity groups. If you know of someone in need, please have them apply. Call Slope Electric or download the appropriate application below:
Completed applications can be submitted by:
Fast Facts:
Operation Round Up started in 1997
Board meets 4 times a year usually in early February, June, August and November. The next meeting is scheduled for November 9. We will consider all applications received on or before October 19, 2023.
380 awards have been given for a total of $281,970 to:

227 individuals $193,820
115 community projects $65,750
17 youth programs $10,350
22 school programs $11,050

70% of Slope Electric members participate in Operation Round Up
Slope Electric matches the Operation Round Up funds we collect each month from our members and that amounts to a little over $600 per month.
---
Note: This page includes downloadable files that are in Adobe PDF format and require Adobe Acrobat Reader. You can download Acrobat Reader free of charge from Adobe's web site. This is a safe, fast and easy installation.